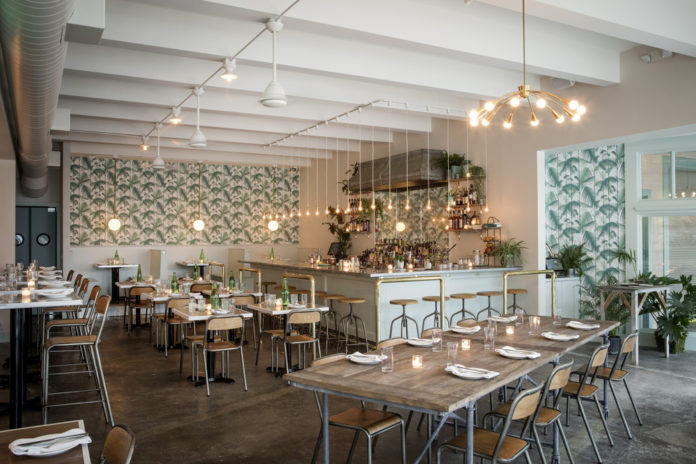 WE SERVE A GLOBAL CUISINE INSPIRED BY YEARS OF LIVING, TRAVELING AND COOKING ABROAD!
5 STAR – NOT TO BE MISSED RESTAURANT! This is now my absolute favorite restaurant in Seattle. Jamie and I were invited out with some friends to Stateside. I had never heard of this place and had no idea what to expect. Let me tell you… This place is so good! ummmm greaaat… No wait… It's AMAZING! The food is definitely deelish and flavorful with every single bite. Honestly, I really couldn't get enough. Our experience started out great and ended up amazing.
We started our evening with a cocktail. I had THE COCONUT. It has rum, lime leaf and galangal added to a freshly cracked coconut. YES…there is an umbrella! This cocktail comes with a straw and a spoon. The spoon is used to dig out some of the fresh raw coconut meat. So good! (pictured below in middle)

Cocktails at Stateside Seattle, WA
I'm not sure how you are supposed to eat dinner here. But, we had ours "Family style". I always enjoy sharing. I think it brings people together. Universally we all have one thing in common and that's to eat. Why not enjoy together. Also, It's a fun way to sample more than just one dish.

Our progressive dinner menu looked like this:
CRISPY DUCK FRESH ROLLS – duck rolls wrapped in fresh herbs and rice paper
CRISPY MUSHROOM FRESH ROLLS – shiitake mushroom rolls wrapped in fresh herbs and rice paper
HUNAN-STYLE CHILI CUMIN PORK RIBS – your choice: a bit spicy or extra spicy
GOAT CURRY – grilled goat and dried haricots verts braised in fresh curry paste with coconut milk and yogurt
CHA CA LA VONG – Our Version black cod marinated in turmeric and galangal, rice vermicelli, fresh dill, cilantro, mint, and peanuts
BUN CHA HANOI – Our Version pork patties and belly in caramel fish sauce marinade, imperial rolls, rice vermicelli and herbs
COFFEE POPSICLE – A delicious coffee infused Popsicle. Great way to end a meal.

Overall the food and experience was excellent. Service was amazing, environment/ambiance was fun and lively. I am thoroughly impressed with my entire visit. If you'd like to visit STATESIDE I would highly recommend a reservation. All the details are listed below!
STATESIDE
300 East Pike Street –
Seattle, WA 98122
Phone: 206.557.7273
Email: [email protected]
Dinner: Everyday 5:00-10:30
Brunch: Saturday & Sunday 10:00-2:00