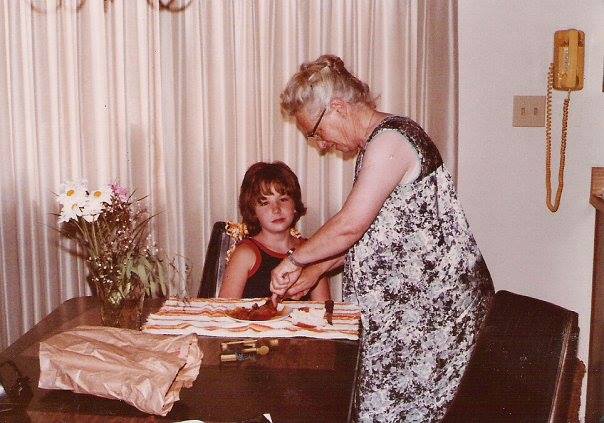 I just found this pic of me and my Nonna Clementina from Naples, Italy. She was cutting up a Braciole. Whenever I saw her that is what she made for me. This is truly one of my favorite recipes. I grew up eating Braciole and have passed the addiction on to my kiddos. I hope you enjoy this recipe.
Braciole—beef slices rolled up with a savory garlic, parsley and cheese filling—is one of those dishes common to both Italian-American and 'Old World' Italian cooking—of the Neapolitan variety. Italian-Americans will often add them to the pot when making Sunday Sauce, but they are equally good on their own, simmered in tomato sauce. Unlike the long simmering of a Sunday sauce, braciole need only an hour or an hour and a half of cooking. In fact, many modern recipes call for as little as 30 minutes of simmering, but I like these done the old-fashioned way, simmered in a leisurely fashion as if making a ragù. The sauce is wonderful, almost as good as Sunday sauce, and can be used to dress pasta as a first course before the braciole themselves.

INGREDIENTS:
10 slices top round meat extra thin cut (Milanesa)
8 slices Italian Prosciutto
10 slices of Provolone Cheese
8 tbsp pine nuts chopped
8 tbsp golden raisins
4-6 tbsp extra-virgin olive oil
6 cloves garlic crushed
1 bunch fresh parsley
10 leaves fresh basil
10 tbsp grated pecorino or parmigiana
10 slices of Italian Provolone
1 glass (250 ml) red wine (also, don't forget a glass for you to drink while cooking)
Breadcrumbs – I use Progresso Italian Bread Crumbs
a dash of salt and pepper on each braciole before rolled
3-4 jars of your favorite tomato sauce. I prefer Trader Joe's. Make braciole is a tedious task and the last thing I want to do is make a fresh sauce too.

DIRECTIONS:
Mash up the garlic, the chopped parsley with a generous pinch of salt and a grind or two of pepper.
Lay out the beef slices on a clean surface. Tenderize them first. Then slather some of the garlic and parsley paste on each slice. Then add the breadcrumbs, grated pecorino or parmigiana, raisins, pine nuts, eggs and basil. Once that is done you can add the prosciutto and top off with provolone.
Roll up the beef slices as tightly as you can. To keep them closed during cooking, you should tie them at each end with kitchen string into little bundles.
Heat some olive oil in a sauté pan, Before putting the braciole in the pan you should salt and pepper all sides. then add the braciole and brown them lightly. About 3 to 4 minutes a side.
Turn up the heat and add the red wine. Let the wine cook off, turning the braciole from time to time so they color evenly in the wine.
Now add the tomato sauce, mixing it well with the soffritto. Turn down the heat again, cover the pan and let it all simmer very gently for a good hour or more, until the meat is tender and the sauce dark and well reduced. Add some water if the sauce is getting too thick before the meat is done.
To serve, remove the string and lay the braciole on top of some pasta with a spoonful of sauce on top. Use the rest of the sauce to dress pasta.
If you make this amazing braciole recipe… I would love to hear how it comes out. Call or email me!